Ich habe heute den folgenden Code geschrieben, um mit meinem Raspberry Pi einen SPI IO-Expander vom Typ MCP23S17 zu steuern:
[python]
#!/usr/bin/python
import os
from time import sleep
device='/dev/spidev0.0′
devaddr=0x40
def write(device,deviceaddress,register,byte_data):
    handle=open(device, 'w+')
    try:
        data=chr(deviceaddress)+chr(register)+chr(byte_data)
        handle.write(data)
        handle.close
        return True
    except:
        print("Unable to write to SPI Bus")
        return False
 
#MCP23S17 Register GPIOB auf Output schalten
write(device,devaddr,0x01,0x00)
delay=0.1
while True:
    write(device,devaddr,0x13,0x01)
    sleep(delay)
    write(device,devaddr,0x13,0x00)
    sleep(delay)
[/python]
In diesem Beispiel wird das SPI-Device /dev/spidev0.0 wie eine Datei behandelt. Um den MCP23S17 zu steuern, werden jeweils drei Bytes geschrieben:
Die Adresse des ICs, die über 3 Adresspins konfiguriert wird. In diesem Beispiel liegen alle drei Pins auf Masse. Die resultierende Adresse ist 0x40. Näheres hierzu findet man im Datenblat des MCP23S17.
Das Register, das geschrieben wird. Im Beispiel schreibe ich in das Register GPIOB, das für die Steuerung der 8 GPIO-Pins GPB0 bis GPB7 zuständig ist.
Der Wert, der in das Register geschrieben wird. Ein Byte besteht aus 8 Bits, die jeweils den Zustand 0 oder 1 haben können. Der Wert 0x01ist hexadezimal. Dezimal ist der Wert 1 und Binär ebenfalls 1 oder zur Verdeutlichung 00000001. HIermit wird das erste Bit auf 1 gesetzt. Der Pin GPB0 wird dadurch ebenfalls auf 1 (=VCC) gesetzt.
Die Zweile write(device,devaddr,0x01,0x00) sorgt dafür, dass die Pins des Registers als Output konfiguriert werden.
Die While-Schleife würde eine an GPB0 angeschlossene LED blinken lassen.
Anschluss des MCP23S17 an den Raspberry Pi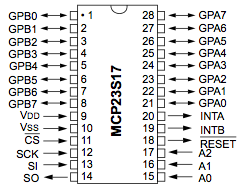 Die folgenden Verbindungen müssen hergestellt werden:
RPI Pin 1 (3.3 Volt) => VDD
RPI Pin 6 (Masse) => VSS
RPI Pin 24 (CE0) => CS
RPI Pin 23 (SCKL) => SCK
RPI Pin 22 (MISO) => SO
RPI Pin 20 (MOSI) => SI
Für den Anschluss einer LED an einen der GPIO-Pins ist ein passender Vorwiderstand zu verwenden. Die LED und der GPIO-Expander könnten sonst Schaden nehmen!
Für den produktiven Einsatz ist diese Vorgehensweise nicht geeignet. Sie zeigt aber recht anschaulich, wie der SPI-Bus und der MCP23S17 arbeiten. Für den produktiven Einsatze empfehle ich den Einsatz einer fertigen API wie z.B. die von Quick2Wire.